Dordogne Markets
Meandering through markets in France is one of life's great pleasures and a perfect way to get a glimpse of local life in action. There are wonderful markets to explore in the region every day of the week, including Sundays. Here's a link to a schedule of market days in the Dordogne.
With small kids this is a no-brainer as all the treats and trinkets can easily entertain them. Honestly, the 10-year-old boy in our group wrote in his diary that our market visit was SO boring. So be it, the next day was spent at the zip-line adventure park, Parc-en-Ciel, and any doubt in his mind that the Dordogne is fun for kids disappeared instantly.
Prehistoric Caves
The area around the Dordogne is full of prehistoric caves; some with paintings and others with interesting rock formations. While they are relatively close to each other and easy to find, figuring out how to purchase tickets in advance can be challenging and not all caves take reservations. There is no photography allowed in the caves. We visited three very different caves, all with paintings.
Lascaux II. Lascaux is the most famous prehistoric cave. In order to preserve it, an exact replica, Lascaux II, was built next to it. This tour is a great place to start for first-timers and kids. There are many tours in English, the tour is very educational and because it's a replica the animal paintings, mainly horses and bulls, are very easy to see. Attempts to book via email in English and French were unsuccessful. My hotel in Paris finally secured reservations over the phone and I picked up the tickets at the tourist office.
Font-de-Gaume. This is widely considered the best cave art in the area and is the most difficult ticket to obtain since they only allow 180 visitors per day (12 people per tour) and only two tours in English. This feels like a cave; it's cool inside with narrow areas, but it's an intimate and personalized tour. The guides are very knowledgeable and the main paintings here are of bison. The tour is 45-50 minutes and kids need a good attention span here, as the group is small and talking is disruptive. Our local hotel purchased tickets for us but you may try fontdegaume@monuments-nationaux.fr.
Rouffignac. After seeing the two most famous caves in the area, we went to one of the most popular ones, Rouffignac. This was our kids' favorite because visitors ride on an electric train to view the famous mammoths. Tours are only in French and no advance reservations. We arrived right when they opened up after lunch and had a 30-minute wait.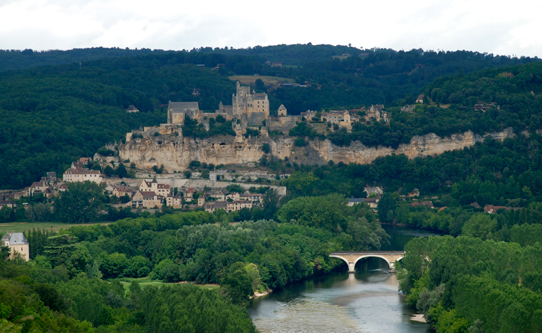 View of Château de Beynac from Château de Castelnaud
Castle Visits
There are more than 1,000 castles in the Dordogne. Not all are open for visitors, but there are plenty to explore. I wrote about our visit to Château de Beynac — one of my favorite castles in all of Europe.
Château de Castelnaud is also fantastic with a large collection of medieval ammunition on display. If you are traveling with boys, this is a crowd-pleaser.
You don't need to go into each castle to appreciate them. The exterior is always a big part of the magic. A boat ride down the Dordogne is the perfect way to view them.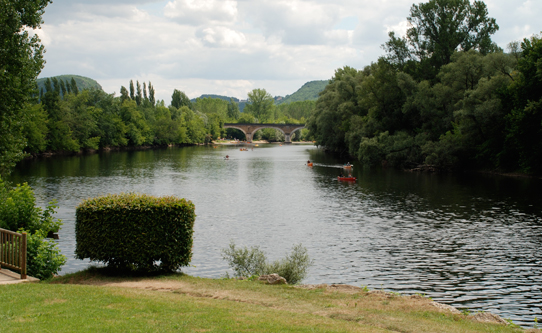 Canoeing is a popular summer activity for families in the Dordogne
Canoeing or Kayaking on the Dordogne River
There may not be a more magical river to canoe or kayak. Every bend reveals a castle or an astonishing medieval city built into the cliffs. There are many canoeing and kayaking companies to choose from and we went with Roquegeoffre which was recommended by our hotel Le Chevrefeuille. They were great – efficient and organized and there is an ice cream store at the end!
With a 5 and 8 year-old we chose the shorter, "highlights" course comprised of a minimum of 2.5 hours of kayaking without stops. Our total time with the kayaks was just over four hours including a stop in La Roque-Gageac for lunch.
With younger children I would recommend packing a lunch and stopping at one of the little beaches along the way instead of going to a restaurant – four hours was too long for my kids. Another option if you want to see the sights without the kayaking is a one-hour ride on a "gabarre" boat.
Boys burning off steam in Les Jardins de Marqueyssac
Les Jardins de Marqueyssac
Garden visits are fun for every age, particularly versions with mazes and trails for kids to romp around. We spent an afternoon at Les Jardins de Marqueyssac and loved it.
Garden touring is effortless and relaxing. This is a perfect destination for all ages.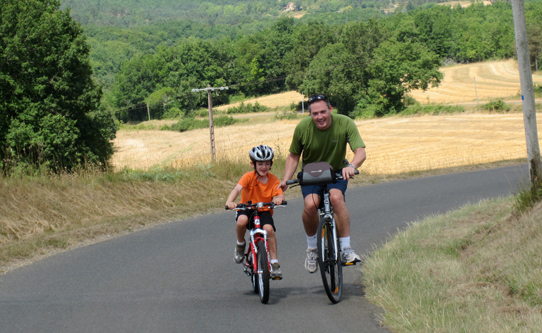 Bike Riding in Dordogne France with Kids
Bike Riding
When people tell me they are going to bike Italy's rural roads with kids I always have an eyebrow up as the roads are narrow with blind corners — this combination only seems to make the Italians driver faster.
In the Dordogne, however, many of the back roads are very quiet with gentle hills and are glorious for bike riding. We had bikes delivered to our farmhouse for the week and biked around as a break from sightseeing. Hotels or villa agencies can organize this for you.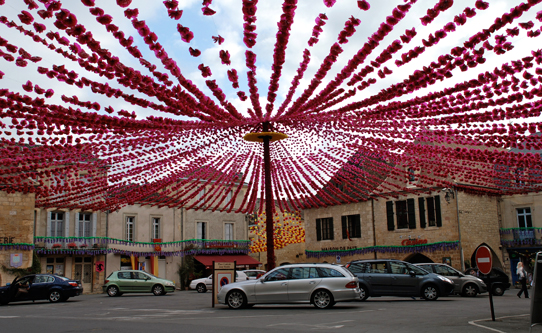 Beaumont du Perigord decked out for their summer festival
Going Local
Our favorite part of the Dordogne for families is that it's so easy to go local and not feel surrounded by tourists all the time. Kids don't get quite as excited by quaint villages as we do, but if you loiter in a place for long enough, they settle in and discover the fun and freedom of village life in the French countryside.
Summer festivals are plentiful. We were lucky enough to catch Beaumont du Perigord decked out for their celebration. Some villages have evening cookouts of sorts where the community gets together outside for dinner. We joined one for an evening — within no time, our kids were playing tag with kids from all over the world while we sipped wine.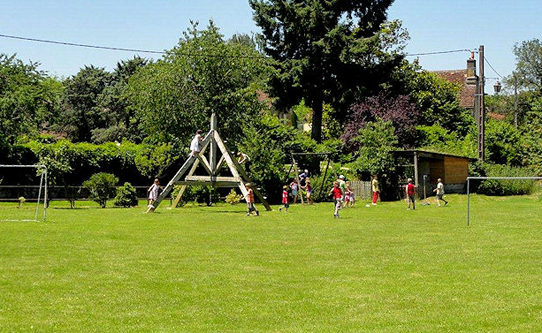 Le Chevrefeuille has an ideal set-up for kids
Where to Stay
For single families, I prefer hotel stays where other kids are likely to be present. Kristi loved her stay at Le Chevrefeuille, a farmhouse-style accommodation with a perfect set-up for kids.
Meals
Regardless of where you stay, be sure and visit our friend Yannick who runs Les Truffières, a working farm with a restaurant. This is one of our most memorable meals in all of France. We returned back for five nights we loved it so much! Your kids will love the animals and garden, you will love the food, the host, and price point. +33 (0) 5 53 27 30 44
Photos by Amie O'Shaughnessy. Le Chevrefeuille photo courtesy of Le Chevrefeuille
Relevant Links:
Ciao Bambino review of Le Chevrefeuille
https://dordognefamilyholiday.com/wp-content/uploads/2015/11/bambino-blog.png
301
640
Sara Le Chevrefeuille
//dordognefamilyholiday.com/wp-content/uploads/2015/06/dordognefamilylogo.png
Sara Le Chevrefeuille
2015-11-04 10:39:07
2015-11-04 10:45:41
Dordogne Holiday Highlights for Families by Ciao Bambino