Le Chevrefeuille offers great family friendy holidays in the world famous Dordogne Valley
Welcome to Le Chevrefeuillle Chambre d'hotes et gites de charme in the heart of the beautiful Perigord Noir or Dordogne Valley. We are very proud owners of this beautiful farm ensemble which consists of a nest of buildings around an interior courtyard and surrounded by external gardens. Our Perigourdine farmhouse complex, divided up into bed and breakfast and self catering accommodation, offers you medieval perigordine charm combined with modern comfort. Rated excellent with Trip Advisors since 2010, we share our home and local expertise to ensure your holiday in this stunning region is one you will never forget.
When we arrived at our new home, we had a dream to create a place in which we would wish to stay; a professional couple with a small child, we missed staying in accommodation which catered for us as a family taking into consideration that we wanted an occasional night out without our children, we wanted good food, we wanted to cater perhaps for our children, put them to bed and then be able to enjoy an evening without them. We wanted a safe environment, a peaceful setting but with ample things for our children to do without us. We wanted the ability to watch over our children from a distance with a glass of wine, a book and preferrably on a sunlounger. With these requirements in mind we built our business. With two children of our own,  who love the constant source of new friends and new experience, to attract families was priority.
Just 5km from the market village of St Cyprien, 7km from the 'prehistoric capital' of Les Eyzies and 17km from the medieval town of Sarlat, our accomodation provides the perfect location from which to explore the castles, rockart, caves and medieval villages which make up the vivid and diverse history of this region or simply to enjoy a peaceful and relaxing holiday
We love our place and we love our vistors and we know that you will love us !
Children love Le Chevrefeuille…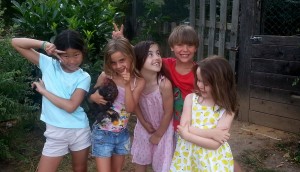 We offer our famililes an open outdoor environment with playroom, playground, chickens, guineas pigs, rabbits and horseriding next door. We create a safe and secure environment with plenty of other playmates for your youngsters so they can experience an independence which they love and a relaxing environment for you. The only problem will be getting them out to visit the many brillant things to do in the area…….